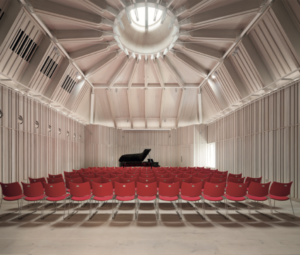 The Royal Academy of Music has won the BCIA Cultural and Leisure Project of the Year Award for their new Opera Theatre and Recital Hall. The Academy commissioned Ian Ritchie Architects and WSP design engineers to design the beautiful performance spaces, using Osborne as the contractors for the construction process. Other contributors included Atelier Ten, Arup Acoustics, Fisher Dachs Associates, Ulrike Brandi Licht, WSP Fire, AIS, Geoffrey Osborne, James Johnson & Co, Push The Button and Glantre.
Below they discuss their reasons for entering the competition, what effect the award has had and their advice to aspiring contenders.
1. Why did you decide to enter the BCI Awards last year?
As a practice, we feel the BCI awards provide the best reflection of overall project quality of any design & construction industry awards. The BCI awards are one of the very few pan-disciplinary awards and we feel this approach or this outlook is extremely important. The very best architecture is only possible with a great client and a very committed and collaborative approach from the Design Team and Contractor. It takes a real team effort. The BCI awards recognise this and reward the project team as a whole rather than simply focussing on one discipline.
2. How has winning this affected your business since your win?
The Royal Academy of Music was a unique project with an opera theatre and new recital hall seamlessly integrated in the heart of the UK's oldest conservatoire. It
is unlikely that another project like this will come along any time soon but winning the BCI award has certainly lifted the profile of the practice and hopefully in the future it will lead to potential new projects in the arts and further education sectors. Interestingly, the Royal Academy of Music have been very keen to publicise the various awards the project has picked up as not only do they help reinforce the Academy's reputation as one of the world's finest music conservatoires but they also help the Academy to attract the very best student and staff talent from all around the world.
3. What advice would you give to someone entering this year?
Be well prepared, start early and give yourself plenty of time to complete the entry forms. We have submitted the Royal Academy of Music project for lots of awards over the past year and the BCI awards process was easily the most thorough and rigorous
in terms of the submission requirements and the time taken by the judges to visit the building, hear from the Client and Contractor and understand the full story behind the finished building. There were some very tough questions but the rigour of the whole process makes winning a BCI award all the more important and special.


Latest posts by The Engineers Ring
(see all)